Tree Trimming
Tree Pruning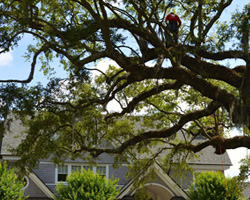 Trees in the forest grow quite well with little or no care, however in a landscape setting Tree Pruning is almost always necessary.There are many cases where woody plants need trimming and pruning. In an Urban setting Trees may encroach upon buildings, driveways, power lines, and other Trees, causing unsafe conditions
and damage to personal property.
Since we live in a hurricane and high wind area, Crown Cleaning and thinning is necessary to reduce the sail effect and lessen the weight of your trees for structural stability.
In Urban Forestry tree pruning is necessary to remove dead branches, for enhanced vigor, to maintain safety of human life and property, and to improve aesthetics.
At Charleston Tree Company our knowledge and experience of proper trimming techniques will ensure a professional end Result.
ARE YOUR TREES HEALTHY AND FLOURISHING?
-Have your Trees Been Inspected Recently?
-Large dead Branches?
-Trees Limbs Rubbing against your roof or house?
-Do your trees have any large cavities with decay?
Ready to Get Started?
Contact Us to get a free estimate or schedule work. Check out our customer testimonials and our before/after gallery. We are very competitive with our rates.